Sale
---
We are all about the provider!
Our products are created to provide the resources for childcare providers to run their businesses. Most products are inspired by years of experience of running a childcare. All with one goal in mind, helping you to obtain a thriving childcare.
TOOLS FOR THE DAYCARE OWNER!
Create A Plan For Your Success
Providers Have Been Asking For This For Years!
For years daycare owners have said that they knew they needed a business plan for their daycare business. But business plans can cost thousand$.
Enter The Playbook, Business Success Planner for daycare owners. Finally an affordable option is AVAILABLE! Get your copy HERE
GET THE PLAYBOOK!
FREE DAYCARE CONTRACT!
One of the BEST & easiest ways to protect your daycare business and income is to have a contract. Here's a FREE Daycare Contract for you to use.

GET IT FREE HERE!
CLICK TO DOWNLOAD
Sale
Want Some Pa$$ive Income?
Hey! Would you be interested in earning passive income & becoming an affiliate for our shop? IT"S SO EASY! Click here to find out more!
FIND OUT MORE
Let's Get Ready ... TOGETHER!
Don't stress about your next Licensing visit. Sign up for our FREE get-ready challenge. This challenge will make sure you're ready for that knock at the door. The Stay Ready Challenge starts Sunday! Sign-up to JOIN US!


JOIN FOR FREE!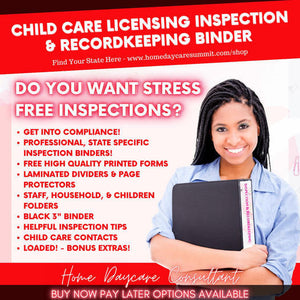 No Stress Licensing Visits!
Listen one of the best things you can do is to STAY READY for your next licensing visit. You know it's coming so why not stay ready for it. Well, I just found a resource that will help us do just that.
CLICK TO GET YOURS TODAY!