---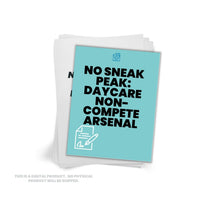 Sale
Description
ARE YOU A DAYCARE OWNER IN NEED OF A STRONG NON-COMPETE POLICY? LOOK NO FURTHER! INTRODUCING NO SNEAK PEAK: DAYCARE NON-COMPETE ARSENAL!
DETAILS:
Professionally drafted Non-Compete Agreement template for daycare staff.
Non-Compete Clause template to include in the Parent/Provider Contract.
Staff Onboarding Handbook insert template with a dedicated section on the Non-Compete Policy.
Parent/Provider Handbook section explaining the Non-Compete Policy and its implications.
Informational Sheet for staff members, outlining the importance and need for the Non-Compete Policy.
GOAL: PROTECT YOUR DAYCARE'S INTERESTS AND CREATE A PROFESSIONAL WORK ENVIRONMENT!
DESCRIPTION: With No Sneak Peak: Daycare Non-Compete Arsenal, you can now ensure a strong and legally binding Non-Compete Policy for your daycare business. Our comprehensive pack provides you with all the necessary templates and resources to protect your daycare's interests and maintain a fair and competitive environment.
The No Sneak Peak pack includes a professionally drafted Non-Compete Agreement template for your staff members. This agreement clearly outlines the conditions of employment, prohibiting them from recruiting or accepting work assignments from clients of your daycare. By setting these expectations from the start, you can minimize the risk of losing clients and maintain a loyal customer base.
We also provide you with a Non-Compete Clause template to include in your Parent/Provider Contract. This clause ensures that parents or guardians understand and comply with the non-solicitation requirements, preventing them from hiring your staff members for private services outside of your daycare.
To facilitate smooth onboarding and communication, our pack features a Staff Onboarding Handbook insert template that includes a dedicated section on the Non-Compete Policy. This ensures that all new employees are aware of their obligations and the potential consequences of non-compliance.
For your parents and guardians, we have included a section in the Parent/Provider Handbook that explains the Non-Compete Policy in simple terms. This helps to create transparency and avoid any misunderstandings, allowing you to maintain positive relationships with your clients.
To assist you in communicating the importance of the Non-Compete Policy to your staff, we have created an informational sheet. This sheet highlights the reasons behind the policy and emphasizes the need to protect the daycare's business interests. By sharing this information, you can foster a culture of compliance and professionalism among your team.
In a competitive daycare industry, it's essential to protect your business and maintain a secure work environment. With No Sneak Peak: Daycare Non-Compete Arsenal, you can ensure that your daycare's interests are safeguarded while providing a clear understanding of the expectations for your staff and clients.
Make a smart investment in your daycare's future. Get No Sneak Peak today and secure your business for tomorrow!
VALUE: $49.99
HOW TO USE THIS RESOURCE:
Download and save the templates to your computer.
Review each template to determine which ones you wish to use.
Remove or edit any sections of the template that don't apply to your situation.
Customize the templates by inserting your business name and personal information where indicated.
Review the templates to ensure that they are appropriate for your audience.
Revise the templates as needed to better suit your needs.
Add any additional information that you feel is necessary to make the document(s) more effective.

Make a copy of the template files before you alter them.

Save the customized templates and distribute them as needed.
Remember, these templates are designed to be copy & paste templates that can be easily customized to fit your specific needs. While the templates are already professionally written, you may need to make revisions to them to ensure that they are appropriate for your audience. With these templates, you'll have everything you need to communicate effectively with your clients and make running your daycare a breeze!
 *Suggested binding style. This is a DIGITAL PRODUCT.  No physical product will be shipped.
PLEASE READ: After payment is complete, the file will be instantly provided for download. 

Here's how to access a PDF file:
Go to the email page on which the PDF is located.

Click on the link or button that says "Download" or "PDF".

Wait for the PDF to load or save to your device.

Open the downloaded PDF file using a PDF reader such as Adobe Acrobat Reader or Preview.

Enjoy your downloaded PDF!
***Please note: Due to the DIGITAL nature of this product, NO REFUND REQUESTS WILL BE ACCEPTED****
Digital Products Refund Policy – Since www.thrivingchildcare.com offers non-tangible irrevocable goods we DO NOT issue refunds once the order is accomplished and the product download link is sent. As a customer, you are responsible for understanding this upon purchasing any item at our site. Read our full Refund Policy here.
***Please convo us with any questions. Thank you for visiting our shop.
© 2021 Thrivingchildcare All rights reserved. Usage, reproduction, or altering of products is not permitted without permission. Each product is intellectual property and is protected by copyright law.