---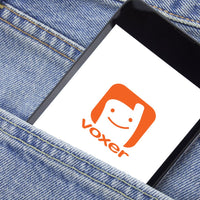 Sale
Description
Feeling Overwhelmed by Your Daycare Business? Need Instant Expert Support? Introducing Voxer SOS: Your On-Demand Lifeline!
PROBLEM SOLVED: Say goodbye to daycare dilemmas and hello to instant expert support! Voxer SOS is your secret weapon, solving the problem of feeling overwhelmed and in need of immediate guidance for your daycare business.
DETAILS:
One-Day 1:1 Access: Get exclusive access to me via Voxer for an entire day, Monday through Friday, from 9 AM to 8 PM EST.
Voice and Text Messages: Communicate with me using a seamless combination of voice and text messages throughout the day, ensuring you receive the clarity and guidance you need in real-time.
Expert Advice on All Topics: Chat with me about anything related to your daycare business, whether it's contracts and policies, dealing with demanding parents, marketing strategies, or any other challenges you're facing.
Help Right When You Need It: Instant access to expert help at an affordable price! Just $27 for one-day access.
GOAL: Voxer SOS is designed to be your lifeline, providing instant expert support that empowers you to overcome challenges, gain clarity, and achieve success in your daycare business.
DESCRIPTION: Are you feeling like a circus performer trying to juggle it all in your daycare business? We've all been there! Introducing Voxer SOS, your on-demand lifeline that's ready to swoop in and save the day. Imagine having one full day of exclusive access to me, your trusted daycare expert, via Voxer. From the moment you wake up to the minute you hit the pillow, I'll be there, ready to help you tackle any challenge that comes your way.
With Voxer SOS, communication becomes a breeze. Send me voice messages while you're juggling snack time or type out a quick text during a naptime break. Need advice on contracts and policies? Facing a demanding parent situation? Seeking marketing strategies to boost enrollment? No problem! We'll dive deep into any topic that's causing you stress or confusion, providing you with the guidance and expertise you need.
Imagine the relief of having an expert at your fingertips, ready to provide instant support, clear your doubts, and help you make confident decisions. Voxer SOS is all about convenience, flexibility, and affordability. For just $27, you'll gain access to a full day of expert assistance, ensuring you receive the guidance you need to take your daycare business to new heights.
So, why hesitate? Your daycare dreams are just a Voxer message away from becoming a reality. Take control of your business, overcome challenges, and embrace success with Voxer SOS as your trusted companion. Purchase your one-day access now and experience the game-changing power of instant expert support.
CONCLUSION: Don't let overwhelm or uncertainty hold you back in your daycare business. With Voxer SOS, you have a direct line to expert guidance, available at a moment's notice. For just $27, you can gain instant access to one full day of support that will save you time, provide clarity, and set you on the path to success. Take charge of your daycare business today and let Voxer SOS be your lifeline to a thriving and fulfilling journey.