---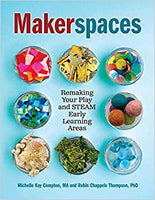 Description
Cultivate the maker mind-set in the youngest learners.
Makerspaces is a first-to-market resource for early childhood professionals that focuses on how to cultivate the maker mind-set in the youngest learners, how to engage young children in maker-centered learning, design and introduce makerspaces, and how to select/use open-ended tools and materials.
Field tested in real classrooms, home settings, libraries, and museums, the authors have practical suggestions, student samples, implementers' suggestions, photographs, anchor charts, and many other forms of documentation. Each chapter focuses on a different type of makerspace, details ways to successfully set up that makerspaces, offers provocation ideas for how to extend learning, and shows how educators can document evidence of how a child can develop a stronger growth mind-set by interacting with the makerspace.
Full-color demonstrative photos give readers additional visual guidance.
184 pages
,